1. Get a free custom design made by a real designer
Have one of our professional designers design a custom cover for your podcast! Its like getting your own personal podcast cover art maker.
This is completely free. You only have to fill out this Google Form and start a free Caproni trial, no credit card required.
Caproni is a podcast publishing service for entrepreneurs and brands creating discussion and interview podcasts.
Get My Free Design
2. Hire a freelance designer from Fiverr
Fiverr is a freelance service marketplace where you can hire people to create a podcast cover.
To hire a freelance designer from Fiverr to create a podcast cover, follow these steps:
Go to the Fiverr website following this link. This will pull up a list of designers who offer podcast cover creation services.
Browse through the list of designers and their portfolios to find one that you like. Also take into consideration of the price of the "gigs". Take into consideration that the final price of given gig might be different from the listed price. We recommend that you always contact sellers first and ask for a quote, rather than directly paying for a gig without contacting the seller first.
When you find a designer that you like, click on their profile to view more information about them and their services. Pay attention to their ratings and reviews from previous clients to get an idea of the quality of their work.
Click the "Contact" button to send a message to the designer and describe your project in detail. Be sure to include information about the style, theme, and any other specific requirements that you have for your podcast cover. Alternatively, if you are feeling confident about a given designer, you pick an existing package from their offerings and make an order directly.
If you sent a message, the designer should respond with a quote and any additional questions they may have. If you agree to the terms and the price, you can hire the designer by placing an order through Fiverr.
After you place the order, the designer will start working on your podcast cover. You can communicate with them through the Fiverr messaging system to provide feedback and make any necessary revisions.
Once the designer has completed the podcast cover to your satisfaction, you can download the final design from Fiverr and use it for your podcast.
If you are starting a new podcast and don't know where to upload your podcast cover, checkout Caproni. We can help you get started.
Here are some freelancers we have worked with in the past with which we had good experiences: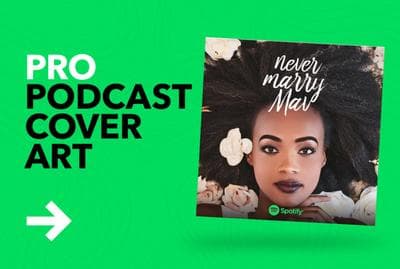 3. Create your own design using a Canva template
Canva is a tool that makes it easy to create designs from templates, including podcast covers.
Here are some examples of the templates available in Canva for creating podcast covers.
You can modify these templates so that they can better suit your brand. It is easy to do changes to these templates, so if you find a template that you like, Canva might be a great option for your podcast cover.
However, if you wish to do major changes or create a custom design from scratch, then it might be better to use a more advanced tool like Adobe Illustrator.
To create a good podcast cover using a template in Canva, follow these steps:
Go to the Canva website and create an account if you don't already have one.
Click the "Create a design" button and select "Podcast" from the list of options.
Choose a template that you like and click on it to open it in the editor.
Customize the template by replacing the placeholder text and images with your own. You can add text by clicking on the "Text" tab in the left-hand menu and selecting a font, color, and size. You can add images by clicking on the "Uploads" tab and uploading your own images or choosing from Canva's library of free and paid images.
Adjust the layout and design of the template to suit your needs. You can move elements around by clicking on them and dragging them to a new location. You can also use the alignment and spacing tools in the top menu to fine-tune the layout.
When you're happy with your design, click the "Download" button in the top menu and select either JPEG or PNG formats. JPEG is better suited for covers that contain photographs, while PNG is better suited for covers that consist mostly of graphics.
Save the downloaded file to your computer and use it as your podcast cover.
What size does your podcast cover art need to be?
Specifications for Spotify, Apple Podcasts (formerly iTunes), Google Podcasts, Amazon Music, Audible and more!
For your podcast cover art to display correctly, it should be at least 1400 x 1400 pixels, and should not exceed 3000 x 3000 pixels. It is also important to note that the cover art should be in the JPEG or PNG format and should be less than 20 MB.
It is a good idea to make sure that your cover art is high quality and looks good at a small size, as it will also be displayed in small sizes on some devices.
It is also a good idea to make sure that the cover art accurately reflects the content of your podcast, as it is the main visual representation of your show on the platform.
These specifications are nearly universal for all podcasting platforms, however the gold standard remains the Apple Podcasts specification. If you wish to obtain more details, click here to find out more!