How to Make a Podcast on Discord in 2023
8 minutes read
Categories
podcasts
planning
discord
Updated on
January-23-2023
Published on
January-19-2023
Discord is a popular platform for making podcasts because it allows for real-time communication between hosts, guests and listeners making podcasts more interactive. Additionally, Discord servers can be easily customized to create a community around your podcast.
Here is a step a step-by-step guide to making a podcast on Discord!
Table of Contents
Summary (tl;dr version)
Setup a Discord server if you don't have one already.
Go to the Craig bot website and invite it to your server. Craig bot is a voice channel recording bot.
Invite your remote guests to your podcast audio channel and when ready start using the /join command.
Once done, execute the /stop command for Craig bot to stop and save the recording.
Download the recorded audio
Use a podcast publishing platform to distribute your audio Apple Podcasts, Spotify Google Podcasts and other podcast listening apps. For that, you can checkout our very own, Caproni!
Promote your podcast on Discord, and social media. Encourage people to share your episodes.
P.S. We are working on fully automating this whole process! 🤖 If you are interested, just fill out this quick form 📝 to add you to the wait list (it takes one minute, we promise). No spam, no BS.
Why use Discord for Podcasting?
Discord is a popular communication platform that can be used for podcasting. Although out of the box it does not include everything needed to create podcasts nor distribute them, it does allow creators like you to easily connect with their audience and build a community around their content.
Features such as voice chat, text channels, and the ability to create custom roles and permissions make it a versatile tool for hosting live shows, Q&A sessions, and more.
Although Discord is associated a a lot with gamers, nowadays its used a broad spectrum of communities and users, so don't shy away from using Discord even if you are not a gamer or don't plan to talk about any gaming related subjects.
Steps to make your podcast on Discord
To create a podcast on Discord, you will need to set up a Discord server and invite members to join. Once you have a server set up, you can use a voice channel to record and broadcast your podcast within your Discord server.
Although Discord offers audio chats, it does not allow you to record these chats out of the box so you will need to setup Craig bot in order to be able to record your audio.
All of this may sound complicated, but here we will guide you step by step through the whole process so feel at ease. We have your back!
Set Up Your Discord Server For Podcasting
Make an account
To get started with your podcast, you will need to create a Discord account if you haven't done it already.
Go to the Discord website
Click on "Login" or "Open Discord in your browser"
Enter the username you want. No need to think about it too much right now, you can change it later.
Click on "I am human" and fill out the captcha.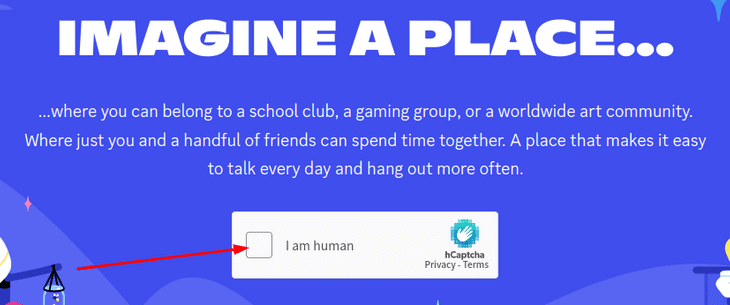 Fill out your birthday. This article explains why they ask for it.
Now continue to the next section on how to create your own server!
Create a server
You'll follow these steps to create your own server on Discord.
Click on the "Create My Own" option.
Choose the "For a club or community" option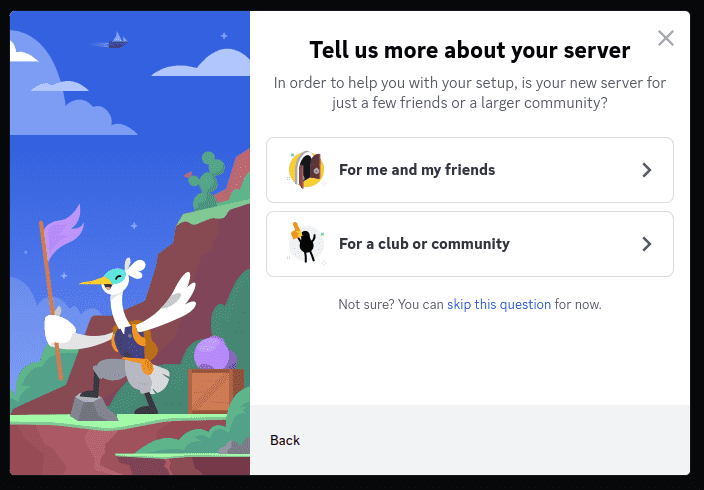 Now you can upload a photo of your brand, logo, or podcast thumbnail. You can also skip for now and it later or add something provisional for now change it later. BTW if you need a design for your podcast cover art you can get a custom design for free from us!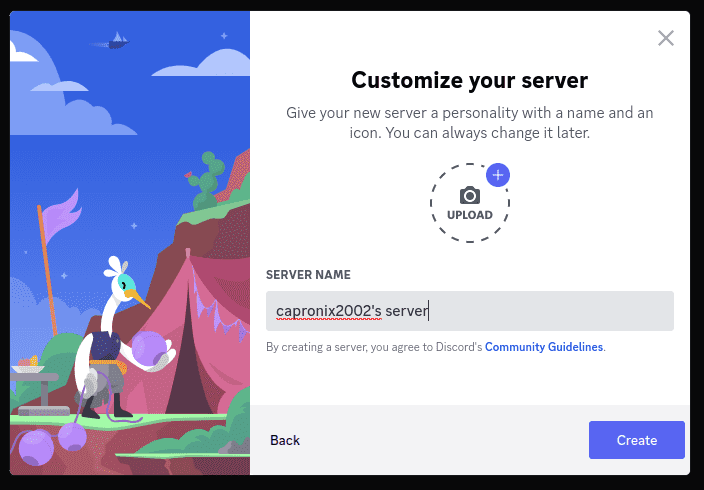 Choose a name for your community's first topic text channel. We suggest just using "podcast" for now. You can change it later.
We are almost done 😎 Click on "Take me to my server!"
This is our last step to complete server creation. You just need to claim your account. Just fill out the form. After you provide your email and password, you will be directed to your inbox. There, you will find a link that, once clicked on, will finish validating your account.
By default, you'll have two channels on your server. That's enough to get started. A big number of channels might confuse newcomers. As your community grows, you might want to add more channels to better organization discussions and information into different topics.
(Optional) Create a Stage Channel to record your podcast on
This is step is optional but highly recommended.
Stage Channels are a special type of audio-only channel that are especially well suited for podcasts. This is because on Stage Channels you can designate "speaking" permissions to only a select few members (the podcasts hosts & guests) while the rest of the community can only listen as an audience. This feature is available for Community Servers only. This article covers the requirements for enabling Community and how to enable your Community Server.
If you need more help, we have an article about how to setup podcast channels on Discord.
Invite Craig into your server
Craig is not a creepy random guy. We need Craig to record our Discord audio convos because Discord has no built-in audio recording feature.
Craig is a multi-track voice channel recording bot for Discord. Multi-track means that you can get separate audio files for each speaker in the conversation. This makes it easier edit and make the post-production changes necessary to produce high quality audio that people will want to listen to.
To invite the Craig bot into your server just click here and follow the next steps.
Select your Discord server and click on "Authorize"
Give Craig all of the following permissions and click on "Authorize"
Gather Your Team & Record Your First Episode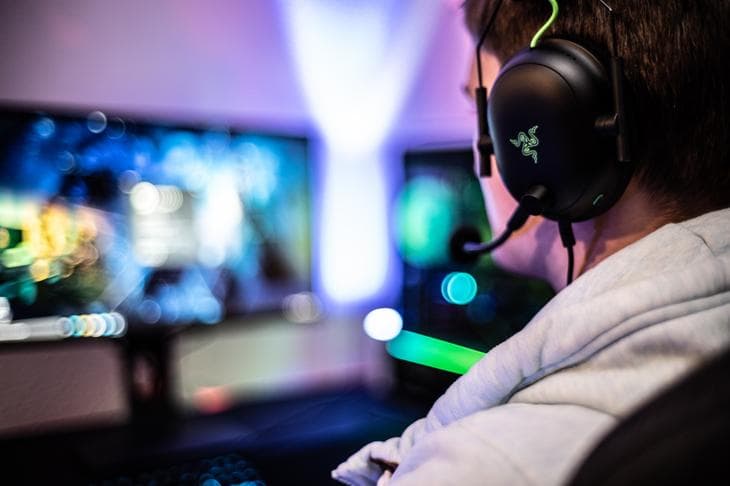 Gather your podcast co-hosts or guests (if any) and invite your community members to listen in. This should be done in an audio channel. You can create a dedicated audio channel for your podcast or you can just use the "General" voice channel that comes setup by default.
A voice channel is just like a regular Discord channel except that it lets you hangout over voice and video.
Once ready to formally start type the /join command to have Craig start recording.
Once you have completed your first episode you can type in /stop or simply click on "Stop recording".
Craig will send you a private message with the URL to download your audio file. Please download the file and then continue to the next step.
Editing & Uploading Your Episode for Distribution
Now you can edit your audio to do common steps like:
Add intro and outro
Add sponsored ads
Do audio level normalization to ensure a consistent audio level throughout the whole episode.
You can do these using a free desktop application like Audacity. For that you can checkout our guide on how to edit podcasts with Audacity.
At Caproni we also offer tools to automate all of this steps to save you time and the pain of having to learn all the in and outs of podcast editing.
Once you have your audio ready, export it to MP3 in order to upload it to a podcast publishing platform. Podcast publishing platforms distribute your podcast throughout all of the popular podcast listening apps like Apple Podcasts, Spotify, Amazon Music, Google Podcasts & more.
If you need help, you can try Caproni for free. We offer personalized customer support to all of our customers.
After you have uploaded your audio, you can start promoting your content via social media, your own website and other digital channels.
Promote & Market Your Podcast
If you want your content to be listened beyond your Discord server its important to not only distribute it to all of the major podcast apps, you also have to put some effort into marketing your content.
Some common ways to market your podcast:
Social media promotion: Share your podcast on your personal social media accounts, and create a dedicated account for your podcast to share episodes, behind-the-scenes content, and information about upcoming episodes.
Guest appearances: Look for opportunities to appear as a guest on other podcasts in your niche to introduce your show to a new audience.
Reach out to influencers: Identify influencers in your niche and reach out to them to see if they would be willing to share your podcast with their audience.
Use SEO: Optimize your website and episode pages for search engines by using keywords related to your podcast and including transcripts of each episode. Caproni comes with built-in websites for your podcasts.
Leverage email marketing: Build an email list of listeners and use it to promote new episodes and other content related to your podcast. You can get started for free with Mailchimp.
Start Producing Content On Discord Today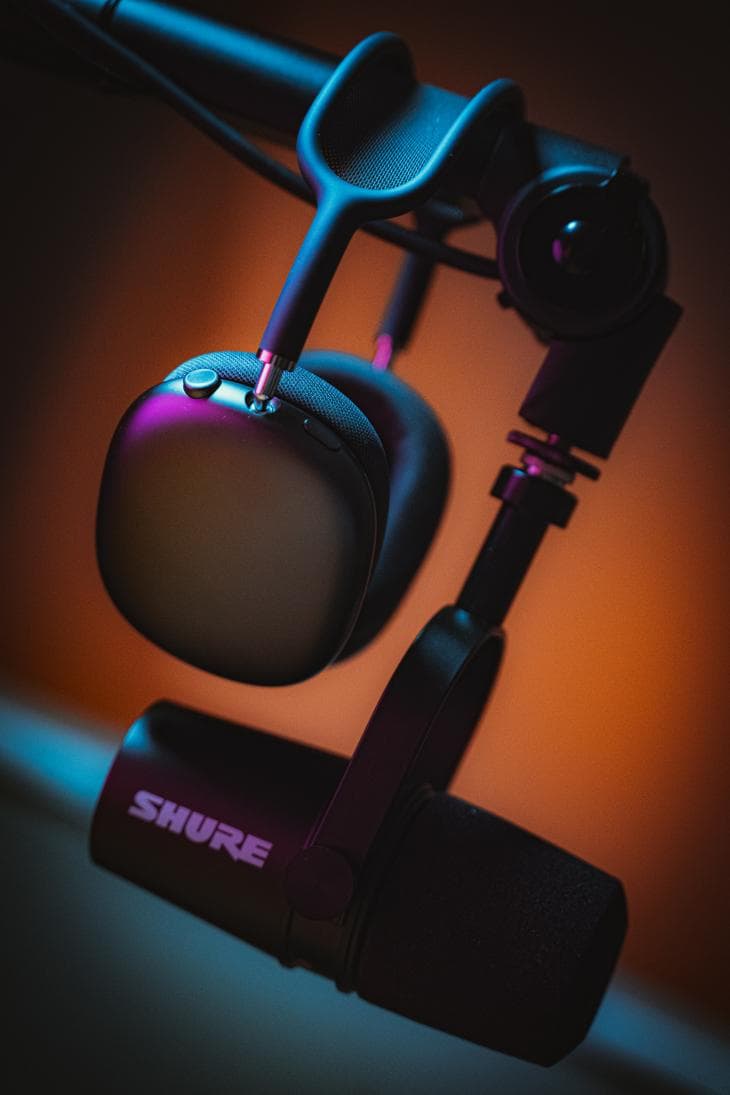 You can get started today if you follow all the steps outlined in this article. Don't worry if you don't have a fancy microphone or if you are not still 100% sure of everything you will cover on your first episode. The most important thing is to get started so you will stay motivated. You can keep learning as you go. If you need help, you can book a free meeting with a podcasting expert here and we'll get you on your way!